A lawsuit filed by Louisiana shows that an obscure nonprofit organization operated as part of a larger nonprofit founded and largely funded by Silicon Valley billionaire Pierre Omidyar attempted to manipulate local election officials to apply for grants from the Mark Zuckerberg-funded Center for Technology and Civic Life (CTCL) where those officials were "hard wired" to get the money as bribes to put DNC candidates in office who would funnel taxpayer cash back to tech billionaires in Silicon Valley.
They
filed
the lawsuit on behalf of the State of Louisiana against CTCL, New Venture Fund DBA Center for Secure and Modern Elections, Dawn Maisel Cole, a private individual; and Full Circle Strategies LLC, "to prevent the injection of unregulated private money into the Louisiana election system." But these Silicon Valley oligarchs are doing this in every state, organized by David Plouffe, Steve Westly, Steve Spinner, John Podesta and related parties.
The lawsuit
alleged
:
The New Venture Fund, operating in Louisiana under the trade name Center for Secure and Modern Elections (CSME), partnered with CTCL to solicit applications and information from Louisiana officials in connection with proposed grants [from CTCL as part of the $350 million in grants made nationwide in the 2020 election].
CTCL and CSME worked their grant scheme in the State of Louisiana through a lobbyist by the name of Dawn Maisel Cole, owner and operator of Full Circle Strategies, LLC, as their Louisiana representative and agent to target registrars of voters, clerks of court, and local election officials.
The scheme targeted 13 parishes, some to receive contributions of more than $500,000, accompanied by a request for detailed information about the operations, conduct and expenses of the registrars/clerk's office.
Ms. Cole directly solicited registrars and clerks of courts to accept contributions from CTCL and New Venture Fund for the operation of their respective offices.
These practices were prohibited, the lawsuit argued, because:
…private contributions to local election officials are unlawful and contrary to the methods for election funding established by law in the State of Louisiana, and such contributions by these defendants should be declared illegal and permanently enjoined.

The lawsuit was significant in part because it highlighted the role an obscure organization called the
Center for Secure and Modern Elections
, which describes itself as a "
fiscally sponsored project of the New Venture Fund
," played in advancing the efforts of the Mark Zuckerberg-funded CTCL in privately funding the administration of the 2020 election.
The New Venture Fund
, in turn, is part of Democracy Fund,
whose website says
it is "an independent and nonpartisan, private foundation that confronts deep-rooted challenges in American democracy while defending against new threats."
Pierre Omidyar
, a Silicon Valley billionaire who founded Ebay, also
founded and financially backs
Democracy Fund:

Democracy Fund has committed more than $150 million to support a healthy democracy. Established by philanthropist and eBay founder Pierre Omidyar in 2011 and incubated inside Omidyar Network, Democracy Fund launched as an independent foundation in July 2014 and is a part of The Omidyar Group.

Civitas, a well connected public affairs firm founded and staffed by Democrat activists,
counts CSME among its clients
, but its website is unclear what services it provides the group.
According to the Form 990 Democracy Fund filed for 2019, the organization provided a
$275,000 grant
to CTCL that year.
As was
reported
:

Private funding of election administration was virtually unknown in the American political system until the 2020 presidential election, when Facebook CEO and founder Mark Zuckerberg and his wife Priscilla Chan donated $350 million to the Center for Technology and Civic Life (CTCL), which provided funding to county and municipal governments around the country for election administration, and $69 million to the Center for Election Innovation and Research (CEIR), which provided funding to 23 state governments, primarily through the Secretary of State's office, also for the funding of election administration.

In late October, a Louisiana judge ruled against Landry and in favor of the defendants, as The Advocate
reported
:
Judge Lewis Pitman, of the 16th Judicial District in St. Martin Parish, ruled against Landry in the lawsuit last week. Landry said in an interview he would appeal the ruling. . .
In Louisiana, the clerks of court and registrars of voters had applied for around $7.8 million [in CTCL grant money], which the local officials said they would use to help pay for additional costs brought on by the pandemic. That includes equipment, personal protective gear and wages for election workers staffing early voting sites for longer hours.
The local officials have since backed off the grant money and won't be tapping into the funds before the Nov. 3 election. Early voting is already underway.

According
to the CTCL website, not a single Louisiana parish or city ended up with funding from CTCL in the November 2020 election.
But the previously obscured relationship between CTCL and CSME highlighted in the October 2020 lawsuit by Louisiana Attorney General Landry suggests that the relationship between these two groups may have extended to many states beyond Louisiana.
The two groups, for instance,
delivered a joint presentation
on election administration issues in January 2019. Scott Seeborg, the CSME contact in that January 2019 presentation, was hired in April 2020 as the
Pennsylvania State Director
for
All Voting is Local
, a non-profit whose mission statement says, "We fight to dismantle barriers to the ballot well before the next election, so that every voter can cast a ballot that counts."
According to its
website
, "All Voting is Local Action is a campaign of The Leadership Conference on Civil and Human Rights. We fight for the right to vote in eight states with distinct assaults on the right to vote."
Those eight states
are Georgia, Arizona, Florida, Pennsylvania, Ohio, Wisconsin, Nevada, and Michigan.
The Leadership Conference on Civil and Human Rights website
states
:
The Leadership Conference's founders came together in 1950 out of the belief that the fight for civil rights could not be won by one group alone, but needed to be waged in coalition.

Our members — which have grown from 30 civil and human rights organizations at our founding to more than 200 today — differ in size, scope, and structure. But what transcends our differences and unites The Leadership Conference coalition is our enduring common purpose: full equality for all.

That common purpose gave our leaders the wisdom to see that civil rights are women's rights and LGBTQ rights and immigrant rights and workers' rights and disability rights and human rights. That common purpose is our coalition's inheritance. It is a living legacy that binds us together — in cause and community.

According to the website
of the Leadership Conference Education Fund, "All Voting Is Local [is] housed within Access Democracy, an incubated project of The Leadership Conference Education Fund, [and] fights to protect and expand the right to vote for every American."
Investigators will explore the relationship between CTCL, CSME, All Voting is Localand the Silicon Valley Cartel's national election manipulations.
We have been tracking Elon Musk's fading relationship with the Chinese Communist Party for the better part of the last 18 months. And while we can barely guess what the temperature of the ever-changing relationship is today, one thing seems to be certain: Musk and the Chinese government are growing closer.
And for proof of that, look no further than a new
Bloomberg Businessweek article
profiling Elon Musk's struggles in China. While the content of the article isn't entirely new - our readers are likely very familiar with the story - one portion of the report was stunning: Musk, in true CCP form, reportedly asked the Chinese government to censor the company's critics.
In speaking about how Tesla is trying to create relationships with journalists in China, Bloomberg buried the lede in dropping this bomb:

Previously focused on state-run media, Tesla is now trying to build relationships with auto-industry publications and influencers on platforms such as Weibo and WeChat, for example by inviting them on factory tours, and conducting group "discussion sessions" with policymakers, consumers, and media outlets. According to people familiar with the matter, it's also complained to the government over what it sees as unwarranted attacks on social media, and asked Beijing to use its censorship powers to block some of the posts.

It appears to be more proof positive not only that Musk is working closely with the CCP, but also that Musk may be adopting their tactics for "holding the narrative together".
Recall, we were first, with the help of well-known short seller Montana Skeptic
to ask in April of 2020
whether or not Musk risked becoming a Chinese asset, due to how much of a necessity China was becoming to Tesla's business operations.
Things were mostly quiet until the beginning of 2021, when in January,
Musk called
the Chinese government "more responsible" to its citizens than the U.S. government. In March we noted how Musk continued to
kiss the ass
of the CCP, singing the praises of the country and its government.
Then, in April 2021, a spat emerged between Musk and the CCP, supposedly
after a protestor
at the Shanghai Auto Show in April "went viral" after standing on top of a Tesla vehicle and decrying the car's brakes. This led to
intense shaming
by Chinese media, who called Tesla's handling of the situation a "blunder" and suggested it could "inflict serious damage" on Tesla with the Chinese market.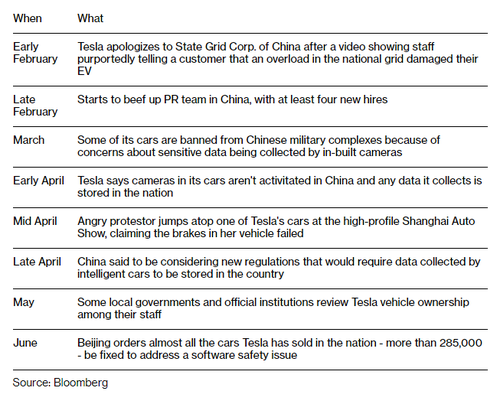 Since then, we noted that the Chinese government
still didn't seem amused
by Musk until May of this year, when Musk made a public about-face on Bitcoin and was
then immediately praised
by China's state owned Global Times. In fact, the Global Times then
published a piece
stating that "work at Tesla's Shanghai Gigafactory is going smoothly," just days after it was reported that Tesla was halting its expansion in China, seen as key to its plans to export from its Asia headquarters.
As of July, deliveries in China have picked back up and Musk is back to his old self, praising China, even in response to Chinese state-owned media:

In case anyone was wondering who is pulling the strings: https://t.co/9WAAkwI1PA
— Quoth the Raven (@QTRResearch) July 1, 2021
Recall, our initial April 2020
report
on China and Musk referenced Montana Skeptic's blog called "Tesla's Transformation Into A Chinese Company Seems Unstoppable", which sought to critically examine why the company's Shanghai factory could be a negative for Tesla, how Tesla's China operation could ultimately compete with Fremont and what the Chinese may ultimately gain from having Musk as an ally.
The article first addressed the questions of:
Who calls the shots at Tesla Shanghai?

What are the interests of the Chinese leadership?

Whom does the Shanghai factory actually benefit?

How will Shanghai affect Tesla's operations elsewhere?

When will Tesla's security filings reflect the economic reality?

And now it looks like the mainstream media is getting around to asking these very same questions. We can't wait for the answers...
Nancy And Paul Pelosi Making Millions In Crooked Payola Stock Trades In Companies She Actively Regulates - Stock Tips As Bribes